English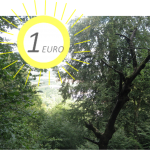 About De Groene Dagobert
De Groene Dagobert (in English: "The Green Dagobert") is a Dutch website about "green" money. As the words describe it, it is about the combination of the word "green" and the cartoon character Uncle Dagobert. This uncle is well known because of the money he owns (a lot!) and his miserliness. The word "green" has many different definitions. For the purpose of this website it is about nature and the environment, but also the economic vision is taken into account. In some cases economics are conflicting with the environment, but there are also cases in which economics and environment are complementing each other. That is what this website is about. On the one side, it is about the activities which you may perform as an individual to have a good financial welfare, by saving money and by investing (the Dagobert factor!). On the other side, it is about acting "green" and helping our planet in many other different ways (the "Green" factor!). This website is about stimulating you to combine these activities. For example, on this website you will find articles about making environmentally-focused economic decisions, articles about saving money in an environmentally-friendly way (sometimes the article includes an idea which stimulates both your financial welfare as well as the environment) and occasionally you will find an article with a financial content, for example about "green" investing. Also, you will find articles about how to act as a Groene Dagobert (environmentally-friendly and with only little spending) to enjoy life. And all of this in a way which significantly contributes to a better world!
Please click the tabs above to look around on this website. For example, visit the tab Activities in order to see what you can do. Or for example, read some Articles.
De Groene Dagobert is also on Facebook:
https://www.facebook.com/groenedagobert
On YouTube, you will also find De Groene Dagobert. To view it on this page, please click below: ***
*** After approximately 10 seconds some commercials will arise at the bottom of your screen, which is automatically inserted by YouTube. Please remove these commercials by clicking at the small cross at the right upper of the commercial or just restart the video. Otherwise, you will miss a part of the presentation!
Green activities?
On this website of De Groene Dagobert you can read articles about many "green" ideas. You may transfer these "green" ideas into "green" acts. Or maybe you do not have enough time for that, but if you do have the money for it, the theme "Environmentally-friendly financial" might be something interesting for you. Or, do you have to earn the money at first and are you looking for a job? In that case, please visit one of these websites:
Find a job with Jooble:
http://jooble.co.nl
http://jooble.org
This website is currently being translated. Please note that most pages are still only available in Dutch.